Which Align-Pilates Reformer Bed Should I Buy?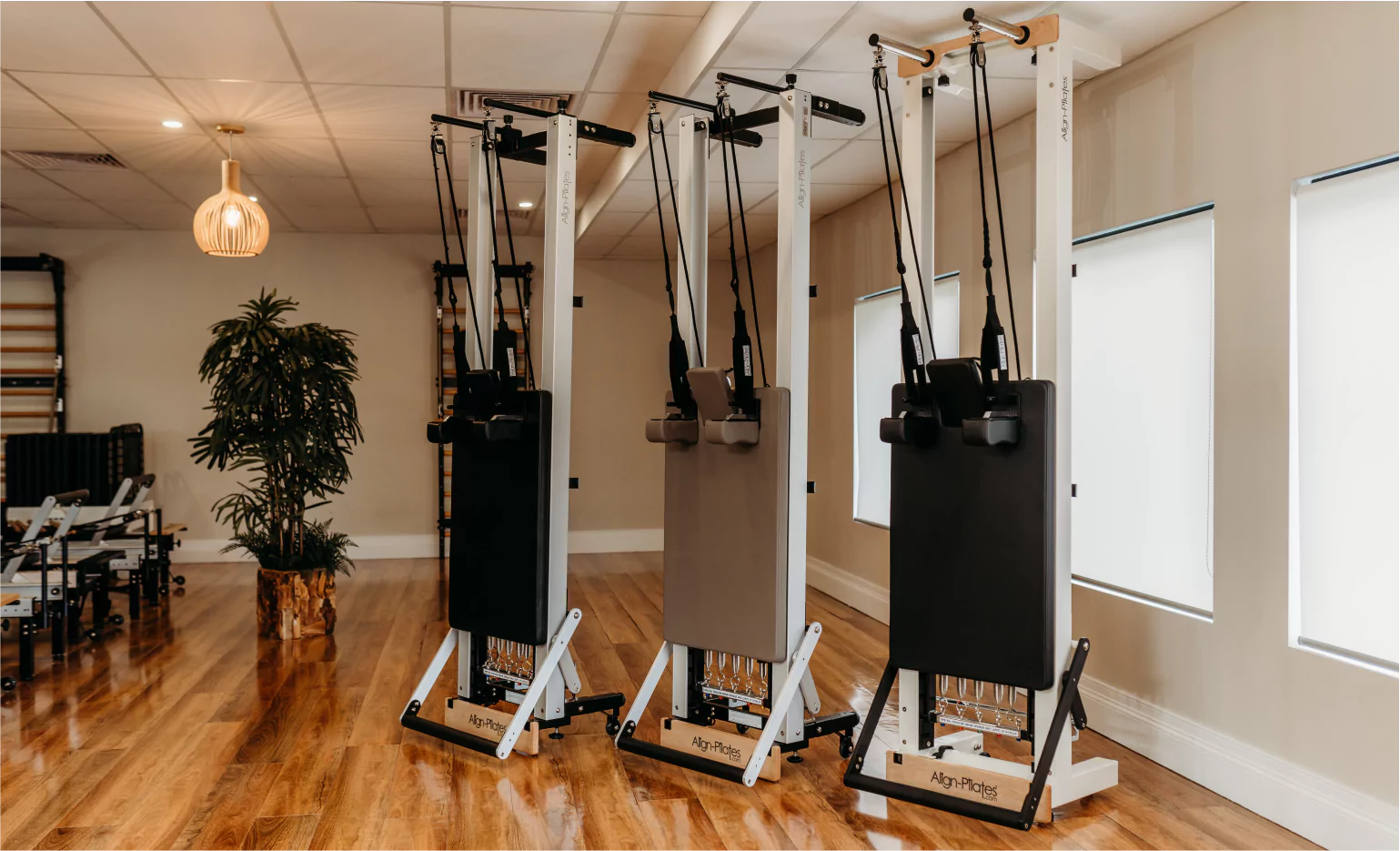 Align-Pilates is considered to be one of the top 4 Pilates Equipment suppliers in the world along with Balanced Body, Stott and Peak Pilates. The shortage of Pilates Equipment during Covid created a gap for some new providers to enter the Pilates market. Uncertified supplier agents, supported by Australian entrepreneurs, were quick to capitalise on the home fitness boom.  However, what separates the opportunists from the experts in Pilates equipment is their product quality, knowledge and variety.  Pilates Reformers Australia is the main distributor of Align-Pilates equipment and Pilates Reformers.  So which Pilates Reformer bed is the right choice for you??
Home Pilates Reformer Machines
Designed for the space conscious Reformer lover, this foldable Reformer machine is compact so it can be stored safely. The aluminium frame together with an 8-wheel carriage design, brings the commercial experience into the home. Accessorise with a jump board or sitting box for added variety in your workout.
Align-Pilates has resourced quality upholstery, ensuring all models including the F3 are protected against puckering or overstretching of the upholstery. 
With 5 Years Home Warranty, the H1 Pilates Reformer bed is one of the best priced Home Pilates Reformers on the market due to its guaranteed warranty and quality. 
The H1 can vertically free stand making space for other uses in the room.  The steel frame makes it a sturdy Reformer machine.  The ability to pair it with a variety of options including extension legs, jump board, sitting box, and platform extender makes it a versatile piece of equipment for the home user, Pilates student or the personal trainer who is thinking of adding Pilates to their home gym.
Commercial Pilates Reformer Machines
All Align-Pilates Commercial Reformer Models are ISO (International Standards Organisation) approved meaning they are internationally qualified for commercial level practice which is particularly important in protecting your business from issues of negligence and liability.
With everything from the white C8-S Reformer machine to the grey upholstered C8-G, to the traditional aluminium C8 Pro Pilates Reformer machines, the Align-Pilates C8 series of Pilates equipment is the most versatile commercial Pilates Reformer for sale. 
We guarantee our products, and stand by their ability to perform at the top level when serviced and properly maintained, thanks to our 10 Years Commercial Warranty. 
For the clinical Pilates enthusiast, the C8 series has the ability to be converted into a half or full trapeze, allowing it to be used not just as a Reformer but as a piece of rehabilitative Pilates equipment.
When making the decision to buy a Pilates Reformer why not consider the largest Pilates Reformer on the market. With the largest carriage (67cm wide and 90cm long) and longest length of travel (113cm) the Align-Pilates A8 Reformer is the most equipped to cater for larger clients or that tall professional athlete.
With 3 different leg height options the ability to add a half trapeze gives this piece of Pilates equipment the ability to meet the demands of any studio or allied health practice.
Who doesn't love an authentic wood finish? Whilst the Align-Pilates M8 Reformer is made from American Maple, other Reformer manufactures may opt for a cheaper alternative for their design such as Beechwood. Most quality manufacturers will use Maple for its ability to hold its form, it's pure beauty and hardness.
Guaranteed to be a show piece in any studio or home environment, this sturdy Pilates Reformer bed can be adjusted to meet your requirements with the addition of jump boards, platform extenders and a half trapeze.
No matter which Reformer machine you choose, Align-Pilates has got many options to help you find what is right for you and your circumstances.  Feel free to contact Pilates Reformers Australia to discuss your needs and budget.  Offering payment plans and a variety of payment options depending on your budget, you'll be guaranteed to get a Pilates Reformer from an internationally recognised brand known for being safe, appropriately warranted, and quality assured.
The comparison table on our website gives you all of the above information in an easy to read format to help you narrow down the field of choices.
---