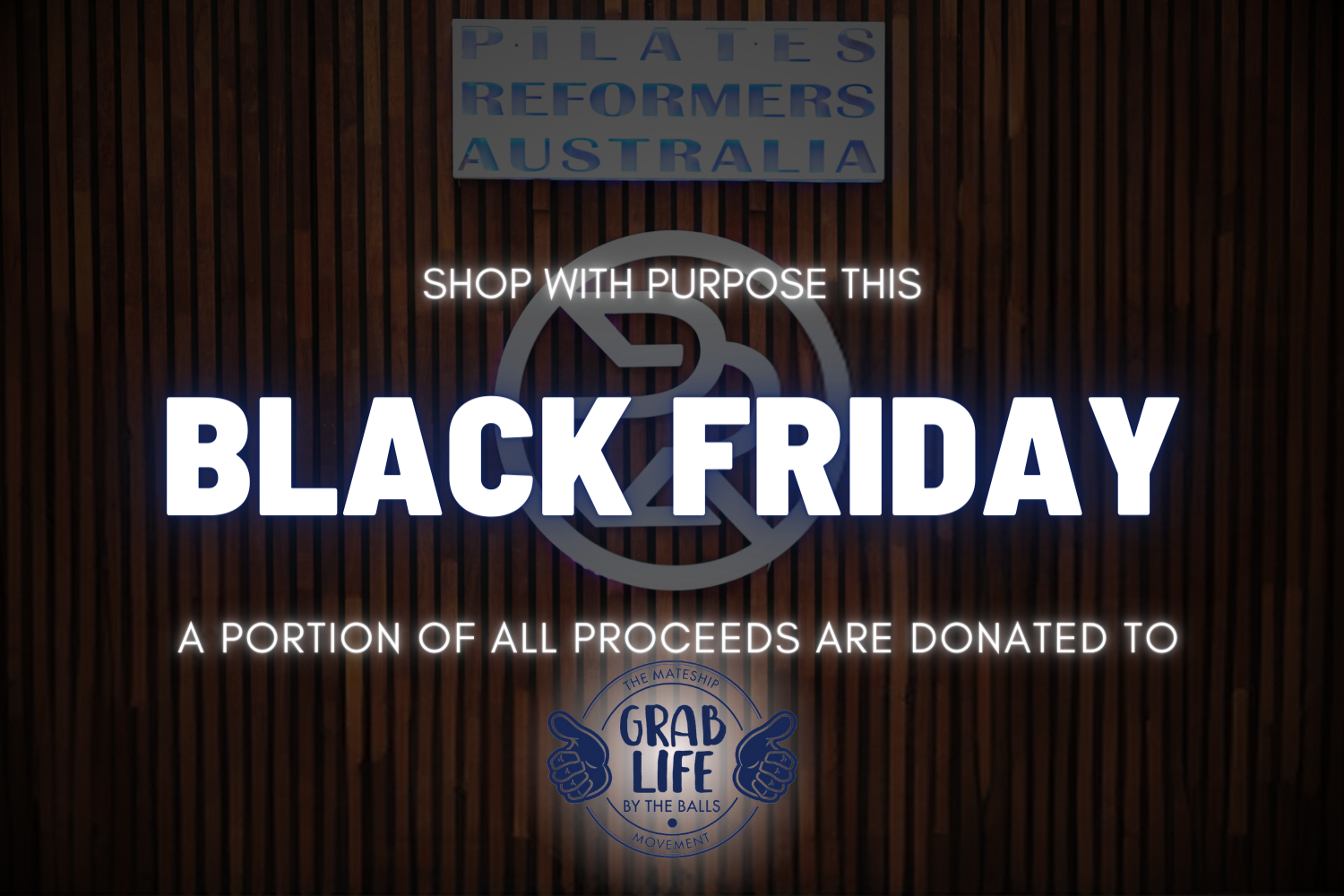 Join us in supporting 'Grab Life By The Balls' this Black Friday.
Shop With a Purpose this Black Friday
This Black Friday through Cyber Monday, Pilates Reformers Australia is proud to launch the 'Real Men Do Pilates' campaign. In partnership with 'Grab Life By The Balls,' we are dedicating a portion of our proceeds to support the vital cause of men's mental health. Pilates is more than a physical regimen; it's a journey towards overall well-being. Together, we can break down stereotypes and build a stronger, healthier community.
Plus 10% Off Accessories Promotion:
Enhance your pilates experience – for less! While you're supporting a great cause, why not enhance your Pilates practice too? Enjoy 10% off automatically on Pilates accessories this Black Friday through Cyber Monday. From resistance bands to Pilates rings, our high-quality accessories are designed to complement your workout routine. Shop now and make your Pilates sessions even more rewarding!
How the Campaign Helps: A Partnership for Positive Change
Every purchase you make contributes to 'Grab Life By The Balls,' a charity dedicated to improving men's health and well-being through mateship. Your support helps fund initiatives and events that foster a sense of community, encouraging men to speak up, connect, and proactively care for their mental health. Together, we're not just promoting physical fitness but nurturing a community where men feel empowered to seek support and camaraderie.
Featured Products:
Save 10% Off Pilates Accessories this Black Friday
Support the Campaign:
Join Us in Making a Difference
Your choice to shop with Pilates Reformers Australia this Black Friday isn't just about embracing a healthier lifestyle; it's about standing up for men's mental health. Each purchase is a step towards breaking down barriers and creating a supportive community. Be a part of this meaningful change – enhance your Pilates journey and contribute to a great cause.
Terms & Conditions:
Promotion Period: The promotional offers are valid from 12:01 AM on 24 November 2023 until 11:59 PM on 27 November 2023.
10% Off Select Accessories: The 10% discount is applicable only on select accessories as listed on the Pilates Reformers Australia website. The discount is automatically applied at checkout during the promotional period.
Charitable Contribution: A portion of the proceeds from all sales made during the promotional period will be donated to 'Grab Life By The Balls', a men's mental health charity. The exact percentage of the proceeds to be donated will be predetermined by Pilates Reformers Australia and is not subject to change.
Eligibility: The promotion is open to all customers of Pilates Reformers Australia.
General Conditions: Offers cannot be combined with any other discounts, coupons, or promotions unless specifically stated. Pilates Reformers Australia reserves the right to modify, suspend, or terminate the promotion at any time without prior notice.
Returns/Exchanges: Purchases made during the promotional period are subject to Pilates Reformers Australia's standard return and exchange policy.
Customer Information: Any personal information collected during the promotional period will be processed in accordance with Pilates Reformers Australia's privacy policy.
Limitation of Liability: Pilates Reformers Australia is not responsible for any typographical errors in the offer or other materials related to the promotion.
Jurisdiction: The terms and conditions are governed by the laws of Australia and any disputes will be subject to the exclusive jurisdiction of the courts of Australia.